While Zapatero joined the "French Zapatera" and 22000 people for the last rally for Segolene Royal in Toulouse, we joined our friends in Paris to help in the final days of the first round, campaigning across Paris including a pastaga picnic on the Champs de Mars where we got an excellent response...both to the drinks offered and our proposals!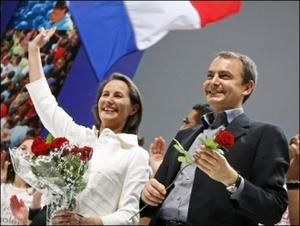 After a brief stop at La Defense - the financial hub of Paris squashed in between the revolutionary Nanterre and the fatcat Neuilly - to help out
Desirs d'Avenir Yvelines
, we rushed to the bobo village streets of Montorgeuil to meet the Mayor of Paris, Betrand Delanoe and Segolene herself. We used the
flashmob technique
to ensure Segolene could meet with everyday citizens on the market and discuss with them in a relaxed mood
From Gambetta to Montreuil, we campaigned passing through the hobo Canal Saint Martin - home to many artists but also the Enfants de Donquichotte, the Communist Party HQ - a futuristic dome home to a dying party and to the perif, the Parisian M25 where we showed the oncoming traffic going on holidays that we were mobilised even above their heads. The unexpected amount of beeping and waving to us was very emotional and at the same time slightly nerving as even some motorcyclists were riding with one hand to salute us. We cavaliered onto various roundabouts with the now infamous flag, the rush hour meaning many cars were stopped in the tracks by the messy traffic and so we could hand out leaflets from the roundabout before the police waving us on.
Throughout the excitement of the campaigning across the quartiers and the banlieues, we revelled in the "picnique participatifs" which could well translate as...food for thought, as well as handing out the inevitable roses that comes with every socialist campaign.
Many thanks to Edwige Langevin, President of Toutes Presidentes and inspiration behind this...
And then Francois Hollande, who had virtually lost his voice, warmed up for the candidate
And finally at 1am, Segolene herself
Check out "les tracts" for the second round, by the
MJS